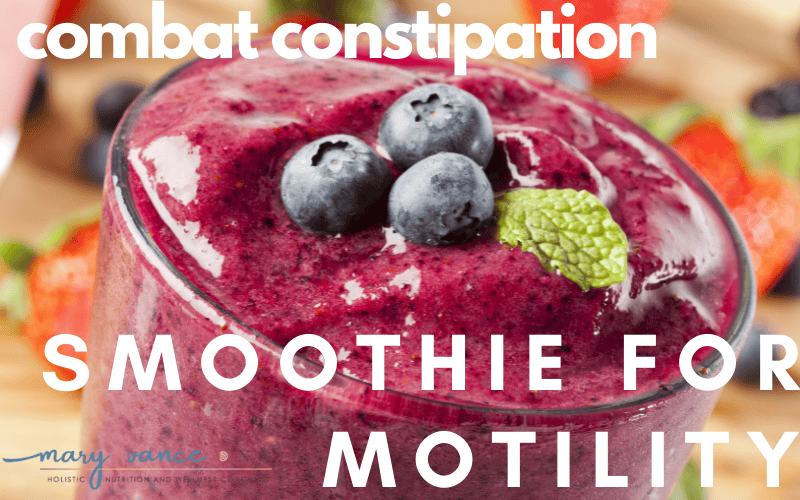 If you struggle with constipation, this smoothie recipe is for you. It contains several different soothing ingredients that promote regularity and motility to help your bathroom experience go more smoothly. Add this smoothie for constipation to your regular breakfast routine.
Constipation is the most common gastrointestinal complaint, resulting in 2.5 million doctor visits annually. About 4 million people in the United States have frequent constipation. (source) I haven't talked to 4 million people about constipation, but I'd wager that roughly 80% of the people with whom I work struggle with constipation.
You're constipated if you're not pooping regularly (you should be going daily), or if your stool is hard and dry and/or hard to pass. Constipation is caused by sluggish motility, and hard, dry stool is caused by the colon absorbing too much water (dehydration is a big cause here).
You need to be pooping every day. Pooping is a main way your body gets rid of toxins, waste, and even unneeded cholesterol and hormones. If you're not pooping, stool sits in your large intestine (colon) and all these compounds bound up for excretion are reabsorbed. That means not pooping can cause hormonal issues (like estrogen dominance), adversely affect gut health (risk factor for diverticulosis), and even affect cholesterol levels. Constipation also causes bloating, discomfort, and increases bad bacteria overgrowth in the gut.
Common causes of constipation include certain medications, lack of exercise, hypothyroidism, poor diet, dehydration, IBS, dysbiosis, IMO or SIBO, and abuse of laxatives. Read my detailed article about constipation here.
I'm always doling out tips and tricks to help my clients' bathroom experiences go more smoothly. Read this post to learn how to 'train' your bowels and create a poop routine. I found myself constantly recommending this smoothie recipe that I developed to increase motility and regularity for my clients. It works so well! Also make sure to stay very well hydrated throughout the day.
Give this smoothie a try, and let us know in the comments below how it worked for you.
Smoothie for Constipation (can be made low FODMAP)
Here's what you need for the smoothie:
🚽1-2 kiwi. Kiwis are proven to help chronic constipation as effectively as taking psyllium husk. (source). You could also use banana, which is also good for constipation, but ripe bananas are not low FODMAP (green tipped/mostly unripe bananas are).
🚽1/2 cup frozen berries. I use wild blueberries typically. Use strawberry & blueberry for low FODMAP option.
🚽1 tbsp ground flax, excellent for regularity, as it's a good source of soluble fiber which dissolves in water, making stools softer and easier to pass. Note that you may need to work up to the full tablespoon slowly.
🚽1 tbsp MCT oil. A natural laxative and great for brain health! Use this MCT oil.
🚽1/4 c Greek or coconut plant-based probiotic yogurt. Greek yogurt is a great protein boost. I like Siggi's plant based yogurt, or CocoJune is great too if you're avoiding dairy.
🚽 handful spinach or greens
🚽add a little coconut milk or water until you reach desired thickness. Use almond milk for low FODMAP option.
🚽 collagen or protein you like. I use this Designs for Health Paleocleanse Plus for its detox support benefits. A congested liver is a big cause of constipation. You can also use this collagen protein. I often use both.
These ingredients provide beneficial fibers and prebiotics for the gut and also encourage motility. You can also add grated ginger which is a great prokinetic (helps you poop).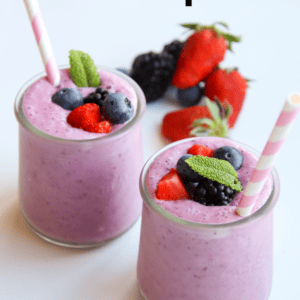 Smoothie for Constipation Relief
Delicious morning smoothie to help you poop better.
Ingredients
1 -2

Kiwi

Can also use use green tipped banana

1/2

cup

frozen berries

1

tbsp

ground flax

1

tbsp

MCT oil

1/4

cup

Greek or vegan coconut yogurt

handful

spinach or arugula

coconut milk, almond milk, or water

as much or little as you need for desired thickness. Start out with 1/4 cup and work up

1

scoop

PaleoCleanse
Instructions
Add everything to a blender and blend.

Add more liquid if you want a thinner smoothie.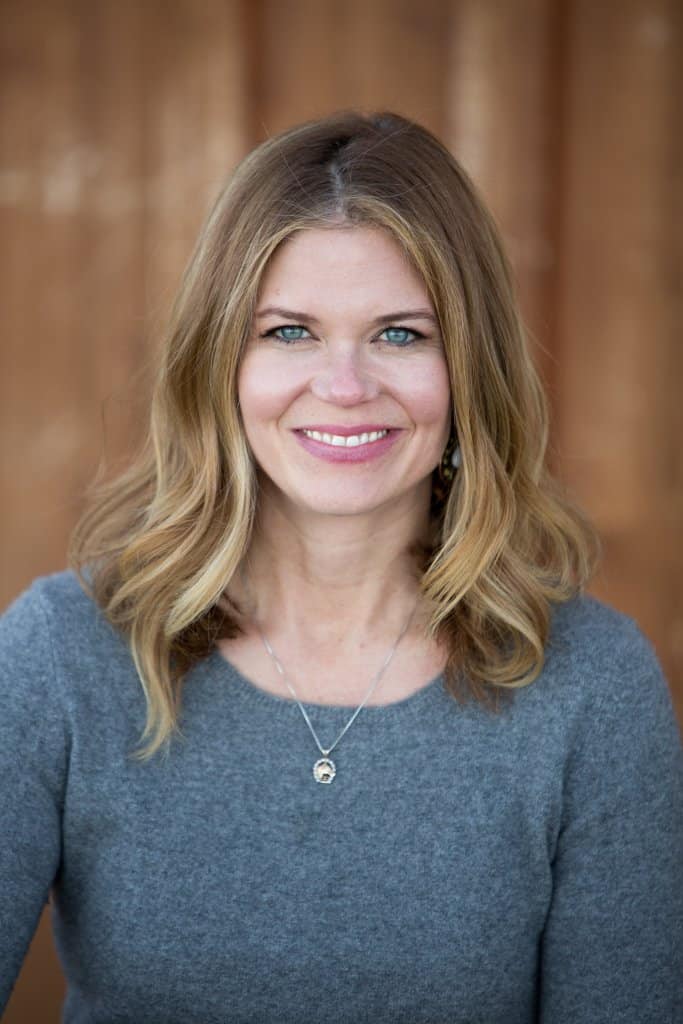 Mary Vance is a Certified Nutrition Consultant and author specializing in digestive health. She combines a science-based approach with natural therapies to rebalance the body. In addition to her 1:1 coaching, she offers courses to help you heal your gut and improve your health. Mary lives in San Francisco and Lake Tahoe in Northern California. Read more about her coaching practice here and her background here.