My name is Mary Vance, and I am a certified nutrition consultant. I help people like you resolve chronic digestive problems. Once upon a time I was confused about what I should be eating to feel my best, and I didn't know where to turn after modern medicine had failed me. I felt depressed that my concerns weren't being heard.
It made sense to me that my diet was the first step I could take to improve my health. Because I couldn't find anyone to give me the information I wanted, I decided to study it myself. So I went to school and became a nutritionist.
After graduating from Emory University in Atlanta with a Sociology & Philosophy double major, I enrolled at Bauman College in Berkeley in 2004 and became an official nutritionist in Summer, 2006.
Now I live in Tahoe and San Francisco in California and serve clients all over the world via video conferencing.
I have been working with clients privately and teaching workshops since 2005. My practice is entirely virtual so I can reach people and spread the good word about real food and holistic health–all over the world!
I have had the good fortune of working with some wonderful mentors along the way, like my personal mentor, functional medicine practitioner Dr Daniel Kalish.
These days I even mentor other health coaches and nutritionists so together we can help even more people achieve optimal wellness.
My philosophy is simple: Eat real food! Functional holistic nutrition addresses the whole person by determining and addressing the underlying causes of your health conditions rather than simply addressing the symptoms.
I design personalized nutrition & wellness programs for my clients, who come to me with a variety of concerns such as hypothyroid/Hashimoto's, stress, fatigue, digestive issues (my focal point), and mood imbalance.
Holistic seems to be one of those buzzwords that not everyone understands.
In my practice, a holistic approach means I'm considering the whole person: your unique physiology, how the body systems impact one another, your lifestyle and even your life experiences. My approach focuses on three main areas: nutrition, lifestyle/emotional wellness, and exercise/stress relief. I am an expert at helping you uncover imbalances that may be causing all sorts of health problems, from IBS to PMS.
Aside from what we discuss during the consultation process, I use functional medicine testing to uncover areas of imbalance, and I'll recommend various supplements and herbs to help clients achieve optimal health, but the backbone of my programs are always seasonal, organic whole foods and traditional recipes.
Hello, beet kvass!
Please check out my Coaching services for more information about me and how I help people. I'd love to hear from you and help you on your health journey!
My Story
I grew up an animal lover, raising and training show horses on a farm in Tennessee.  My love for animals eventually landed me at an animal rights workshop when I was 15. I learned about the horrific conditions behind factory farming. I saw behind-the-scenes videos about what was going on in slaughter houses, and these images have stayed with me to this very day. Haunting images that shattered my preconceived notions about chickens happily pecking away on family farms or cows grazing lazily in the fields. So, I took the next logical step–I became a vegetarian.
Having had no formal education in nutrition, I survived on rice and ramen noodles (Hey, it was vegetarian, right?) and within a year I became severely anemic. I fell asleep in class and needed constant naps. Once I was diagnosed, I started eating meat again for a while (even though I hated the idea) and felt better, and it was around this time that a light bulb went off—what you eat determines how you feel.
Our diets are directly responsible for our vitality and our health (or lack thereof).
I read everything about nutrition that I could get my hands on, including Dr. Andrew Weil, Julia Ross, for starters. I studied more about how food affects us, and how to eat a proper vegetarian diet by combining legumes and grains to get enough protein. I added in plenty of soy (a decision I would later come to regret) and lived happily for many years.
And then… things started to go south. By that point, I was finished with college and interested in both journalism and women's health. I had interned at Planned Parenthood and was working at my college's Women's Center when things turned around. I was suddenly really depressed, and I started having digestive problems.
I moved to California and things persisted. Then my major hormonal issues surfaced and doctors weren't any help.
The conventional medical route wasn't working for me.
I was so passionate about nutrition that I decided to make it my career, and I began attending Bauman College to study even more about holistic nutrition, natural health, and alternative therapies. I discovered that I was sensitive to soy products, and they were not only causing my digestive troubles and hormone imbalance (read my soy story here) but were also blocking absorption of other nutrients.
I switched back to sustainably & humanely raised animal protein so that I could get high quality proteins to make feel-good brain chemicals. The fog lifted. I took herbs to heal my hormones, which normalized, and I felt better than I had in years. The body's ability to heal and adapt amazed me–but you have to provide it with the raw materials to heal.
And so today, I continue to witness health & healing via my clients' diet & lifestyle changes. Through it all, I remember one thing: what we eat has a direct influence on our health. It sounds so basic, but people are just beginning to make this connection. Nutrition is the basis of health!
"Thank you! I am feeling the best I've felt in my whole life and that is so empowering. I got my period for the second month in a row. Woohoo, I'm losing weight and my overall health is good. Those were my main goals for this month, and this is only the start."
—E.T., San Francisco
"I have had GI issues my entire life. I've been constipated, bloated, tired, and had terrible GI episodes even when I thought I was eating relatively healthy. I was always gassy, and nothing seemed to help. I also have a slew of other issues that seem to keep piling onto the things that have yet to be fixed. Within a week of starting my personalized gut healing plan with Mary my bloating, gas, and pain went away. Since then I have worked with Mary on further gut healing, liver detox, and support with PCOS. She always takes my concerns seriously, which is quite different from many dismissive doctors I have seen. Mary has endless knowledge on nutrition and health, and I trust her completely. She also is just a great person to talk with, and perfectly balances being someone you would want as a friend with 100% professionalism. I cannot recommend her enough!"
—S.E., Boston
"Mary is one of the only experts I trust on the subject of nutrition. As a certified holistic nutrition consultant myself, I appreciate her straightforward, evidence-based approach. In addition, her programs WORK! I did her 21-day gut reset and got fabulous support throughout, so it didn't feel hard after the first couple of days. In fact, as a result of our conversation in the private FB group for that program, I decided to try the Autoimmune Paleo protocol after the 21-day gut reset, and now my autoimmune disease is in remission after 2 years of daily struggle. Every one of her blog posts is fascinating and chock-full of achievable tips. I can't recommend her highly enough!
—E.A., Brooklyn, N.Y.
"I have Crohn's disease and have had many health issues because of it. When I came to Mary, I was on 40 mg. of Prednizone and miserable. I had tried some diet changes in the past however, nothing seemed to work. Mary, with her incredible depth on knowledge, started me on a cleanse which began my road to recovery. We identified foods and products that were exacerbating the Crohn's, so I took those things out of my diet and the healing began. I went off the Prednizone, started eating my new regime and felt better than I had since I was diagnosed with Crohn's 20 years ago. Because Mary is so knowledgeable and creative, together we were able to get my life to a place of health that I thought I would never be able to achieve. She is awesome to work with and someone I can trust with my health care. I am very thankful to Mary and recommend her very highly to anyone."
—B.C., San Ramon, CA
"Mary is a rock star. I have worked with her for about six months and she has helped me a ton. From nutrition to supplements to a healthier lifestyle–Mary knows her stuff. I love that she is devoted to women's health and is so on top of cutting edge information that your regular doctor or a standard nutritionist would have no clue about. She is very thorough and easy to talk to as well. She is wonderful with communicating via e-mail too. I have recommended her to several friends as well."
—V.W., Aldie, VA
"I've seen such improvement already! Thank you so much for everything. I can't tell you how much your recommendations have made a difference!"
--E.F., London, England
"Mary is amazing and I highly recommend her for anyone who wants to learn how to eat healthier, feel better or has symptoms/health issues which are not being solved by conventional Dr.'s. I thought I was doing the gluten free and dairy free diet correctly before I went to Mary and then found out I was actually doing it all wrong. With her nutritional direction I have never felt better. If it wasn't for her I would not be functioning. She is wonderful and I cannot recommend her highly enough."
—L.E., San Francisco
"Just wanted to say, SUCH A GOOD WEBSITE! Glad I found you."
"Contacting you was one of the best decisions I've ever made! You helped me clearly understand how my diet and lifestyle (particular emotional stress) were negatively impacting my hormones and how I felt. Through following the protocol you gave me, my hormones rebalanced (I knew because I felt better!) and my menstrual cycle regulated for the first time in my entire life!! I was also able to get pregnant on the FIRST TRY using the fertility awareness method (obviously the balanced hormones helped)! I am now 17 weeks pregnant and we are so happy and excited for the next phase of our lives. I am beyond grateful that I met you and how you've helped change my life!"
—K.M., Pennsylvania
"Feeling great. Period is the most normal I've had in years and years. Pretty amazing really. Thank you thank you!"
—T.R., Florida
"I had not managed to become pregnant in years, and due to my age, I was starting to lose hope. After consulting with Mary and realizing that I had major inflammation and food intolerance issues, I really put effort into spending a few months avoiding my issue foods, going gluten free and doing a candida cleanse. We looked at my hormone panels and supplemented with natural progesterone to regulate my cycle. My concerted efforts bore a startling and surprisingly quick result! THANK YOU!"
—S.L., Playa Del Rey, CA
"I just wanted to first say thank you! I definitely think I'm on the right track! I've lost 10 pounds and 7 inches from my waist and hips, and I'm feeling really good!"
—L.H., San Mateo, CA
"Mary successfully pinpointed my gluten intolerance and solved all of the resulting health issues I was having. For years medical doctors simply prescribed pills to treat my various symptoms and never bothered to look for the actual cause."
—D.M., Washington, D.C.
"I had been struggling with issues since I was 15 years old (now 36 years old) and seemed to be getting nowhere. I had seen at least 8 different doctors over the last 10 years with no results. In 2013, I was finally diagnosed with Hashimoto's Thyroiditis, but unfortunately, the diagnosis and medication did very little for me, and my symptoms continued to spiral out of control. Finally at 255 lbs, feeling exhausted all the time, and terrified of entering my 40s without getting a handle on my health, I decided it was time for a change. The decision to work with Mary is the best decision I have ever made. Mary has helped me revolutionize my health and achieve what no doctor was able to. I have lost 78 lbs. by simply changing my diet, resolved a hormone and diet-driven issue I have had since I was 15 years old, no longer feel tired all the time, am seeing a huge improvement in my thyroid symptoms and am unbelievably getting to decrease my thyroid medication. If you are fed up with your health, ready to make some real changes, and have the control put back in your hands I encourage you to contact Mary."
—S.M., Oregon
"I wanted to say how helpful and supportive this has felt in general, and I've had so many people ask me what I've been doing for my skin to look so good, which is nice ;)"
--A.B., San Francisco
"I had tried everything, not just to lose weight, but to get healthy. I found Mary through a recommendation of her colleague and have never felt better. I came to Mary because I had frequent migraines, was in constant pain, couldn't sleep, yet always felt tired and I had tried everything but the correct eating lifestyle. Mary doesn't put you on a diet, she gets to the root of the problem, and helps you make positive changes in your life, the right way. I have not had a migraine since I eliminated gluten and have naturally lost weight, my joints no longer hurt and I have the support I need to make the change."
—M.S., San Francisco, CA
"I contacted Mary about her services after hearing such great success stories from others, and she definitely surpassed my expectations. I have been dealing with thyroid, adrenal and digestive issues that have plagued me for years, and Mary has been incredible. Mary is really knowledgeable not only about nutrition, but about the entire human body and the intricate connections between all the systems. Her protocol treats you from a holistic standpoint rather than just looking to fix your symptoms. She has the gift of being able to explain things in a way that anyone can understand without feeling overwhelmed or confused. Any time I have a question, she always answers it; her support and guidance is very thorough and I really feel that she cares about her clients. I HIGHLY recommend her to anyone."
—M.B., Malawi, Africa
"Deciding to work with Mary is one of the best choices I've ever made. When we began, I suffered from constant fatigue, and depressed, unstable moods. We worked together to develop an appropriate (and surprisingly easy) diet plan, which identified a food allergy that I never knew existed. Not only have I learned a lot about healthy eating and human physiology, but I feel happier and more energetic than I have in years. I'm so thankful to have discovered a manageable solution based on whole foods and not prescription pills. I would recommend this process to anyone. It will change your life!"
—A.R., San Francisco
"I am so happy I found Mary! I have struggled with stomach and digestive issues for over 10 years. I'd been to multiple doctors, none of whom could find anything "wrong" with me. I'd come to accept that having a chronic upset stomach was just normal. Then I met Mary. At our first full session, Mary broke all of it down for me. "If you eat X, it does Y & Z to your body, and that's why you feel like crap. Let's try eating A, B, C instead and see how you feel." Well A, B & C works! Finally I can eat a meal and not feel like crap afterwards. My stomach is happy now. Oh, and in addition to feeling fantastic, my skin is glowing, and I've lost 12 pounds in 8 weeks! Mary is incredibly responsive, providing compassionate, educated guidance every step of the way. "
—S.T., San Jose, CA
"Just a quick note to let you know that I have been on your program for 11 days and I feel wonderful! My energy levels have improved in so many ways. I feel like Wonder Woman now! I also feel so much less anxious. Thank you."
—C.R., Miami, FL
"The reason I went to see Mary was for weight loss. I tried just about every diet out there, and have a strong fitness routine, but just couldn't seem to lose any weight. I've also suffered from bouts of dizziness, fatigue and feeling unbalanced. The symptoms would come and go, so I figured it was something I would just have to deal with. She immediately pinpointed the root cause of my problem and started working with me to change my eating habits. I came to her as a vegetarian, tired and lethargic and heavy.I thought I was eating pretty well until Mary analyzed my daily food intake and pinpointed areas I needed to change. They were subtle, but what a difference they made! The "foggy brain" symptoms stopped immediately. I started dropping weight. I no longer get those heavy sugar cravings at 3pm! I appreciate Mary's phone conferences, book recommendations and general advice. She's extremely knowledgeable and answers my questions on nutrition so I can understand them."
—L.J., Sunnyvale, CA
"I feel awesome and my insatiable appetite is finally under control! Sugar cravings stopped after about 3 days; I am on day 5 of your Detox Program now. My parents decided to do the diet with me for support and my dad has already lost 5 lbs! So you are helping more than one person!"
—R.M., Overland Park, KS
"I consider myself a pretty health-conscious consumer, and have done my fair share of reading about nutrition and fitness. I thought I had all the answers, but still wasn't losing weight. In fact, when I became vegetarian, I GAINED weight! In the middle of a crazy cleanse, I decided to listen in on one of Mary's informative conference calls to get some tips about cleansing. Let's just say that after that call, I put down the lemon syrup juice and started attending Mary's classes, and it has been a year and I am 20 lbs lighter. Under Mary's guidance, I've totally changed the way I think about food, and while my diet may seem pretty different to some people (no counting calories, lots of rich foods, but gluten free), I've never felt better and I never feel like I am going hungry!"
—C.M., San Francisco, CA
"I consider myself very healthy, but since moving to San Francisco. I've experienced a number of health problems, allergies, asthma, stress, anxiety. My face would break out randomly into red splotches and I would get short of breath. I had had enough. Mary walked me through my diet, which was really eye opening for me. After a 2-hour consultation I left the office feeling back on track and recharged to make a difference in my life with my relationship to food. Thank you Mary! I look forward to more of your good advice!"
—S.H., San Francisco
"Just want you to know your BLOG has made more sense to me than any doctor has for years. I could read it over again where many doctors only have maybe 15 min to give me. All I can say is Thank You."
—D.A.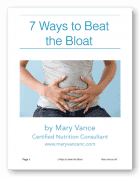 Like what you've read?
Subscribe and get my FREE guide, 7 Ways to Beat the Bloat, plus my newsletter with exclusive offers, recipes, health tips, and treats!