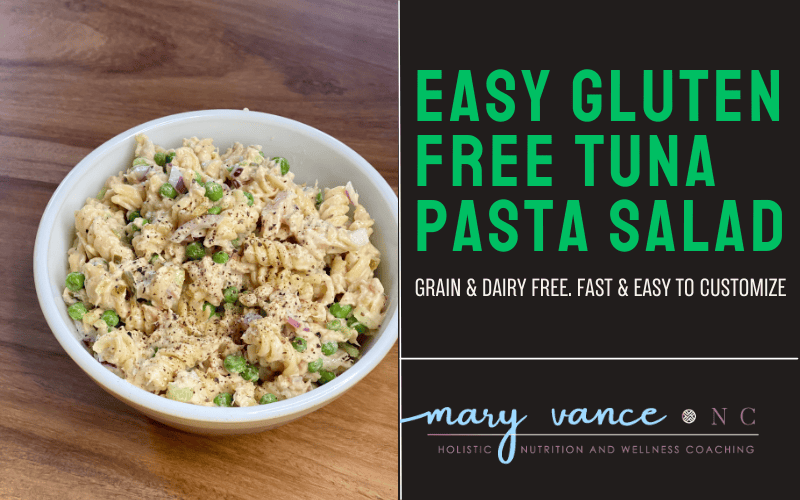 I frequently make this fast and easy gluten free tuna pasta salad for workday lunches. It's easy to customize to your taste and is  a protein and fiber rich meal with some good omega 3s to boot! This makes a great strand alone lunch, or you can serve as a side dish. You can easily double this to serve more people. I sometimes add kale for added nutrients, or I eat it on top of peppery arugula. A great way to sneak in the extra greens we all need.
I use Banza chick pea pasta which has a good amount of protein and packs a good fiber punch at about 5 grams per serving. The chick peas contain good starches to feed your beneficial gut bacteria. Chick pea pasta is way better than the brown rice pastas in my opinion, but you could use any gluten free pasta you like. The chick pea pasta seems easier for people to digest than whole chick peas.
How to Make Gluten Free Tuna Pasta Salad
For this recipe you'll need the following:
2 stalks of celery
about 1/4 red onion
Banza chick pea pasta: I like the rotini, but you could use shells too
Wild Planet tuna: a brand that fishes sustainably and is low mercury
Peas
Mayo or Greek yogurt, or a combo: I like Primal Kitchen mayo which uses high quality ingredients. Or you can make your own mayo super quickly if you have an immersion blender. I also add a splash of ranch dressing (also Primal Kitchen brand) if I have some on hand.
Mustard: I like honey mustard but you can use any kind you like.
A few other condiments depending on your preference. As mentioned, this recipe is super customizable based on your preferences and what you have on hand. I'll add a dash of tamari or Worcestershire (great for flavor depth), Sriracha, capers, fresh herbs (dill works especially well), Aleppo pepper, relish, dash of Ranch dressing
Step one is to get your pasta boiling. Don't overcook the Banza pasta or it gets mushy. Once cooked, drain it and run cold water over it to cool it down a bit and rinse off the starches so it doesn't clump. Then toss with a pinch of sea salt and a little olive oil to prevent it from sticking together.
Step two is to make the tuna salad: Drain the tuna, the put it in a bowl and flake it with a fork to break it up a bit. Add mayo and mustard and stir well to combine. Then add remaining ingredients and taste to correct seasonings. Add in the pasta and stir everything together well. Top with freshly cracked black pepper and/or Aleppo pepper. You can eat this right away or refrigerate. It'll keep several days.
How to customize gluten free tuna pasta salad: You can use Greek yogurt instead of mayo. You can add cooked kale. You can leave out the relish. Add Sriracha. Top with capers. Use plenty of black pepper then top with Aleppo pepper. I like adding a splash of Ranch for flavor diversity. Dill goes well sprinkled on top, or try cilantro also.
This recipe delivers plenty of crunch, a good amount of protein and fiber, and an omega 3 boost from the tuna. A great weekday lunch or side dish!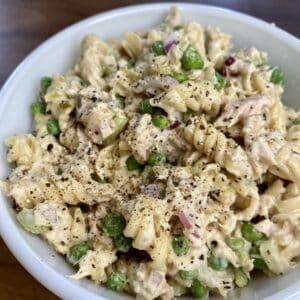 Gluten Free Tuna Pasta Salad
This fast & easy gluten free tuna pasta salad uses chick pea pasta and sustainable tuna for a protein and fiber rich meal your whole family can enjoy!
Ingredients
1

5oz can

Wild Planet Tuna (packed in water)

4

ounces

Banza chick pea pasta

use shells or rotini

2

ribs

celery, chopped

1/4

(or less) red onion, diced

3/4

cup

frozen peas

1/4

cup

Mayo or Greek Yogurt

add more to taste

1

tbsp

honey or dijon mustard

1-2

tbsp

sweet relish

more to taste

dash

tamari or Worcesteshire

sea salt & black pepper to taste

optional ingredients = splash of Ranch, Sriracha to taste, Aleppo pepper, cooked kale
Instructions
Boil your pasta in salted water unitl done to your liking. I don't recommend al dente for this recipe, but don't overcook chick pea pasta or it gets mushy.

Drain pasta, rinse with cool water. Toss with a bit of sea salt and olive oil to coat and prevent sticking. Set aside.

Chop and dice and prep ingredients while pasta cooks.

Meanwhile, make the tuna salad: Drain tuna & flake into a bowl.

Add mayo & mustard. Stir til well combined.

Add rest of ingredients and taste to correct seasonings.

Add pasta to tuna salad and stire gently to combine well. Add sea salt and pepper and optional Sriracha, Ranch.

Top with more pepper and freshly chopped herbs like dill or cilantro. Enjoy!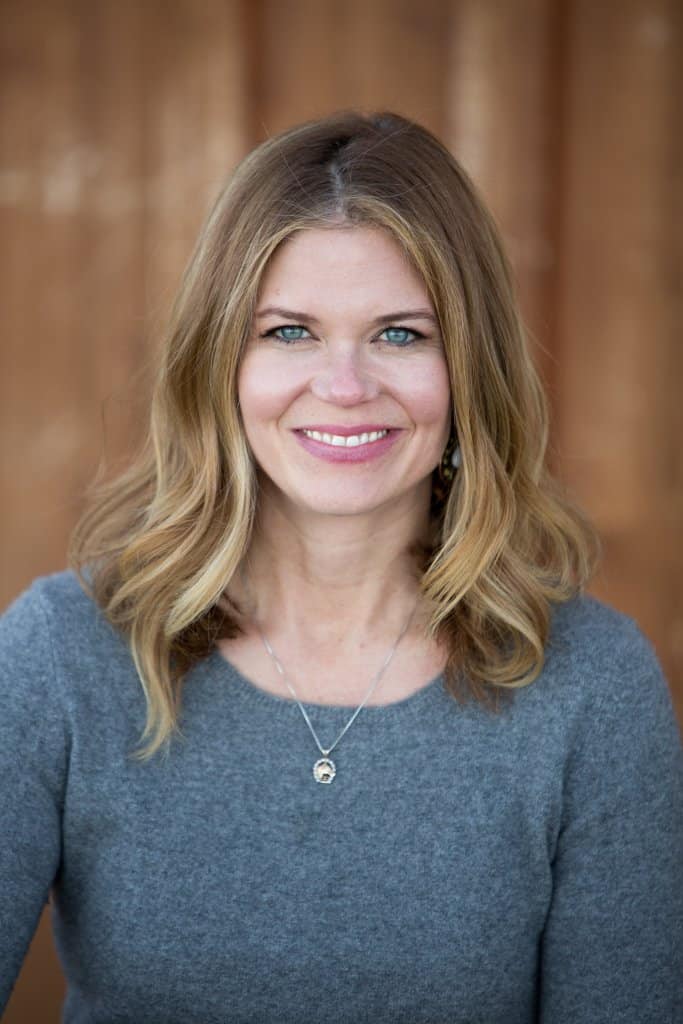 Mary Vance is a Certified Nutrition Consultant and author specializing in digestive health. She combines a science-based approach with natural therapies to rebalance the body. In addition to her 1:1 coaching, she offers courses to help you heal your gut and improve your health. Mary lives in San Francisco and Lake Tahoe in Northern California. Read more about her coaching practice here and her background here.